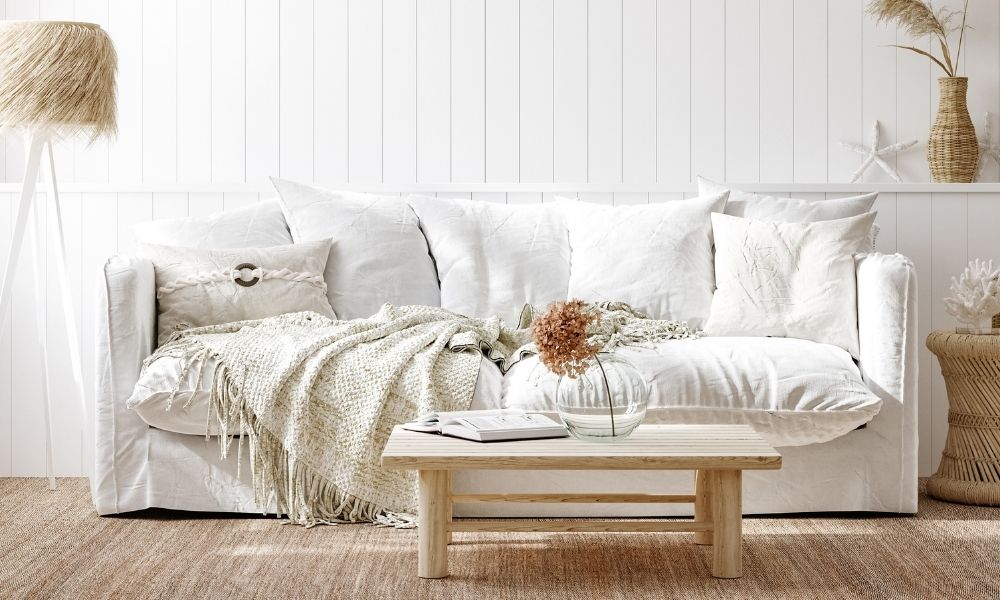 Part of the joy of homeownership comes from being able to make the space inside your four walls a personal slice of paradise. This includes the furnishings—each one strategically arranged like puzzle pieces, securely and confidently snapped into place. But knowing what pieces are expected in your home is another thing entirely.
There are basics that everyone should have, like a sofa and adornments for the wall, but there are many underutilized furniture options that would better make your room pop. Knowing what these pieces are and how they slot into your living room's jigsaw puzzle will only add to your ability to enjoy your space. Here are the key furniture pieces you need to complete your living room.
Occasional Chair
What better place to start than with a piece that many younger generations might not see outside of their grandparents' house—the occasional chair. This functional seating option can be used to add a spark of color or form a distinction with shade for monochromatic color schemes.
The nice thing about the occasional chair is that it can slot well into almost any room, including foyers, dining rooms, bedrooms, bathrooms, and, of course, living rooms. But this chair's versatility doesn't end at what room it lands. These come in a variety of shapes, sizes, colors, and fabric materials. A few of the popular variants for these chairs include armchairs, rocking chairs, gliders, and barstools. One popular method for maintaining balance in a room with an occasional chair is displaying two of the same chairs to promote symmetry. A counter method to this balance is to have a solo chair that draws focus to the fact that it is by itself.
Comfortable Sofa
The cornerstone of the living room, a comfortable sofa will always rule the roost. A sofa can serve every function you could imagine. It serves as the anchor and sets the tone for the rest of the room by the strength of its statement.
Sofas are amazing because everything is negotiable when trying to find the right fit for your home. Have children or live in an arid climate where the leather will dry and crack? There are many microfiber sofa and loveseat options available. There are also many fashionable sectionals made with the finest leather and with features such as heated seats, built-in massaging, and fold-down consoles for snacks, TV remotes, video game controllers, and cup holders. In short, nearly anything that you can imagine is available.
Sleeper Sofa
While some households will resort to the less-sophisticated couch as the sleeping option of choice for those in need of a place to crash, the more discerning will instead have a sleeper sofa to offer their weary guest. The beauty of a sleeper sofa comes in the fact that it hides in plain sight when its alternate form isn't necessary.
Much like other types of loveseats and sectionals, sleeper sofas are adept at fitting into whatever cover is necessary for the furniture. They are much more comfortable for anybody who needs to make use of the bed and are often available in sizes all the way up to queen in many brands and styles.
Paired Light Fixtures
It's incredibly difficult to overstate the role that lighting can play in a room. Too much light can flood an area, making it feel like a hot seat, and the person in the spot is the center of attention. But not enough can make an otherwise-cheery place seem dour and uninspired. By adding lighting in pairs, it will help reduce the shadows and add light where the room needs it most. The best way to correct the lighting situation that your home contractor saddled you with is to increase the sources of light in the room.
There are essentially two methods for adding artificial lighting to a room. The first method is with light fixtures built into the home. This includes light fixtures in ceilings and along walls, as well as lights that hang from the ceiling. The other method is using lamps to add lighting. Decorative or not, lamps help eliminate shadows in areas that other methods can't reach.
Restful Recliner
A staple in the weekend napping of parents and grandparents going back generations, a recliner is a perfect statement piece for any living room. The nice thing about them is that they come in all the same materials and with many of the same addons as other seating options. Plus, a recliner's sole purpose for existence is the comfort of the person ensconced in its warming embrace. While there might be more practical seating options available, recliners will always have a place on the list of key furniture pieces you need to complete your living room.
There are many different uses for a recliner for each member of the family. Those who enjoy crafting projects with their hands will enjoy being able to sit back instead of being hunched over a table. Sports fans and movie lovers have a chance to sit back and catch the big game or newest blockbuster. It gives parents a chance to cuddle with their young children. It's also a prime spot to comfortably catch a short nap.
Outdoor Options
There's a trend emerging in backyards and on back porches everywhere—the use of the great outdoors as a second living room for their home. While this has long been common in warmer climates, the trend has started to migrate slowly north. This has resulted in families investing in outdoor furniture that mimics the quality of what is found inside their home. The quality isn't the only characteristic shared with the indoor brethren. Many of the same color and design options found in other contemporary living rooms have an outdoor variant for those looking to bask in Mother Nature's splendor via the outdoor living room.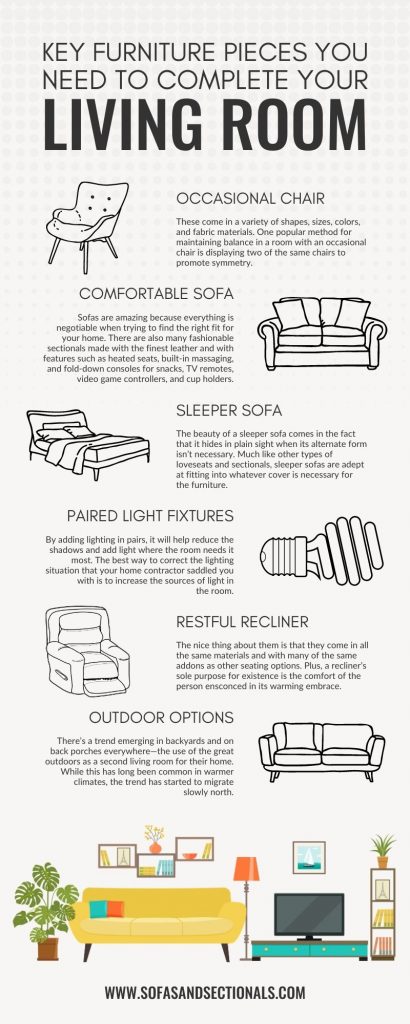 When you're shopping for your next set of living room furniture, pay a virtual visit to the experts at Sofas and Sectionals. We have a wide variety of furniture options from all the top brands and in all the hottest styles. Let us show you why we're a leader in online furniture shopping.