For people spending a considerable amount of time outdoors, a fire is essential for their survival. It provides warmth, light, the ability to cook, dry wet clothing and even security from wild animals. On an entirely different level, fire can also offer comfort and help to reduce feelings of anxiety or panic, and it can be used as an emergency signal. Whether someone is camping outdoors or inadvertently lost in the wilderness, a well-built fire can make a world of difference to their survival. Depending on a person's physical condition, it can be difficult to make it through even one night in extreme cold settings. If the core body temperature falls below the normal range, hypothermia can set in, and can lead to symptoms such as frostbite, mental confusion, the inability to move and even death in severe cases.
When travelling in the wilderness, it is best to go prepared, even if the planned outing consists of a short amount of time. There are plenty of accounts of hikers who set out for only a few hours but got lost and ended up stranded outdoors for several days. Some of the basic tools that are needed to start a fire are waterproof matches or a lighter (it is usually best to bring both!), a newspaper and a pocketknife. In the worst-case scenario, if the weather is wet, it can take a long time to start a fire with wet materials. This is where the newspaper comes in. Sheets can be torn and rolled into balls and will easily burn, helping the surrounding wood to alight as well. The pocketknife can be used to strip twigs and bark from trees for additional kindling. If you are planning to stay outdoors for a considerable period of time, consider bringing a container of fuel or charcoal briquettes, as well a supply of firewood. It is very important to keep the firewood in a dry place, since the weather could change for the worse at any time. If there is no dry place available, cover the stack of firewood with a tarpaulin. More advanced campers can also bring along a flint striker, which is usually available at camping and outdoor activity stores. A small axe is also a very handy tool for chopping firewood, especially if logs are not brought in advance.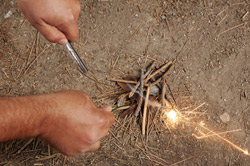 People who are caught out in the wilderness, completely unprepared, can still create a survival advantage for themselves by building a fire in other ways. Try to collect as much natural kindling as possible, in the form of dry leaves, pine needles, abandoned birds' nests, and grass. Areas directly under large trees are usually most likely to be drier than the surrounded area during cold or wet weather. If there are pine trees nearby, look for trails of sap running down the tree and scrape it off to use as a fire starter. In other emergency instances, a car battery or car cigarette lighter can also be used to start a fire.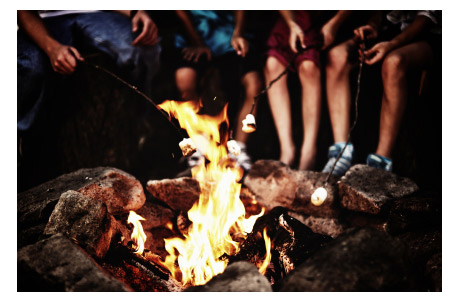 To find out more about how to build a good campfire from different materials and under varying circumstances, have a look at the resources below.