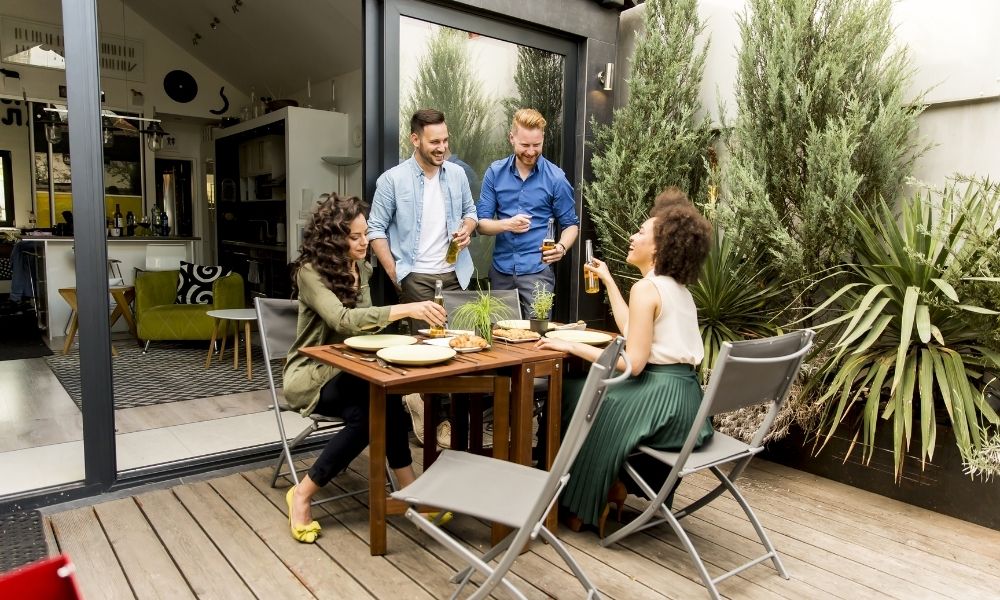 One of the best things about being a child is the freedom to spend large chunks of time enjoying the splendors of nature. Unfortunately, we start losing these opportunities as we grow older, continuously burdened with the ever-increasing responsibilities of our already crowded schedules. For many homeowners, this has become a bridge too far.
A major design trend in recent years is the growing popularity of outdoor living spaces. These areas afford people the opportunity to enjoy the benefits of outside with all the creature comforts we've come to expect from our homes. There are many different reasons to consider adding an outdoor living room to your property. Here's a closer look at many of the perks of having an outdoor entertainment space.
Event Hosting
It's nearly impossible to overstate the benefits for families and friends that spend time together, especially in the outdoors. A well-kept space creates an area where your entire group will want to spend time. This is because many events instantly become better when outside, including birthdays, holidays, and other celebrations.
Events with food and drinks can help strengthen your relationships with the people you care about. One of the nice things about hosting outdoor events is the simplicity of the cleanup, especially compared to indoor cooking. Many outdoor living spaces now include a full kitchen to make hosting easier. Creating an outdoor entertainment area with family and friends in mind makes your home a much more welcoming place.
Improve Creativity
For as good as routine feels in our daily lives, there are still some major drawbacks, including the likelihood of falling into the same tired thinking patterns. But something as simple as a change of scenery can help discover a wellspring of creative thoughts. An outdoor living space allows people the chance to adjust their view without having to change their location completely. Plus, being outdoors and soaking in nature is also good for sparking creative thoughts and ideas.
Expand Your Home
One benefit of an outdoor living room is the expanded living area they create. Especially as families grow older (and larger), it becomes more important to have extra space to accommodate everybody. Another common path people choose when designing their outdoor space is to make it an extension of their living room. Thanks to modern weatherproofing, many outdoor seating options are available, and there's even the option to hang a television. This creates another opportunity for those who enjoy the comforts of home to continue to enjoy the benefits of outdoor living.
Adds To Home Value
Because the trend in outdoor living spaces is so prominent in the industry right now, homes that feature them experience an increase in value. Outdoor living rooms are now amongst the most popular additions to make before selling a home, with many folks trying to cash in. Something many designers like about outdoor living areas is how they can curate the space how they want it without being restricted by walls. This means the space can be as large or as small as needed. Consider possible ways to use the area, including a backyard pool, a deck, or a living room. With advanced planning, you can create a space that's the perfect blend of budget and added home value.
Health Benefits
There are also a number of health benefits from spending more time outside. One of the perks of having an outdoor entertainment space is the ability to experience many of them without stepping foot off your property. Here are some of the most significant ways your health can benefit.
Boost Immune System
Right away, being outside creates a boost to the body's immune system. Certain plants produce a chemical called phytoncide to protect themselves from insects, and we inhale this while outside. These compounds work to boost white blood cell production, which helps to keep us free from illnesses. Certain trees such as oak, cedar, and pine are all great sources of phytoncides.
Increase in Vitamin D
The sun is one of the best sources available for vitamin D. This vitamin helps regulate the amount of calcium and phosphate in the body. A lack of vitamin D can cause bone deformities in children as they grow and osteomalacia in adults. Osteomalacia is the softening of bones and can result in many symptoms, including pain in the bones and joints, muscle cramps, and an increased likelihood of broken bones.
Stress Relief
Another health benefit from spending time outside is stress relief. Two places that are known to reduce stress are familiar places and the outdoors. An outside living area represents the perfect opportunity to combine the two. Being in nature reduces your heart rate and blood pressure, both of which are very good for your heart.
Improve Mental Health
The benefits to mental health that come from spending time outside are genuinely impressive. Going outside is shown to benefit people living with depression and anxiety, especially in comfortable settings. There are also studies showing improvements in mood and memory. In particular, memory significantly improves, so spending time relaxing on a deck overlooking a garden can improve performances in meetings or any other time where concentration is crucial.
Variety of Options
The last benefit of having an outdoor living space is all the different ways to use the area. Sprinkled above have been examples such as an additional living room, pool area, and deck. Those are just a few of the ways you can design the space. There are also a wealth of options of what to include in the area. These choices allow you to make the area exactly what you need for you and everyone else to enjoy.
When it comes time to furnish your living room, be it under the sun or under your roof, the best place to look is Sofas & Sectionals. We offer a huge selection of high-quality outdoor and indoor luxury sectional furniture that is sure to meet all of your seating needs. Check us out today for more information and to order your new sectional.